December 3, 2012. If seeing that picture doesn't make you thirsty, check yourself, partner. And yes, it is "good for you," says WGN News. When GFY Stout is being brewed, the Spiteful brewhouse smells like fudge. Co-Founder & Brewer Brad Shaffer turns from the kettle to welcome my entrance with a grinning Italian gesture, by flicking his hand outward from under his chin. Good to see you, too.
Co-founder Jason Klein sits at a small table beside the south wall, working on his computer, warmed by the kettles boiling a mere five feet away. It's a modest office space: no dividers, lamp, or cushioned chair. He prints an invoice and then joins Brad beside the kettle. As you'll see, Spiteful is a small operation. Their space is compact, but I'll be damned if every last piston isn't firing. 
Brad tells me his wish is for Spiteful's growth to be organic, never biting off more than they can chew. After honing the GFY recipe, Brad and Jason are pleased with what has become a flagship beer for Spiteful. I've now given it to several friends, and their reaction has generally been the same: a look of astonishment followed by zero interest in sharing the rest.
I met Brad and Jason at the Pipeworks brewhouse last September, where Brad was apprenticing at the time. Their plan to open a brewery was no secret—now, it's a reality, and it's located in Ravenswood by the Deagan building.
I was drawn to Brad's relaxed, Colorado demeanor: he looks you in the eye when he talks to you, and doesn't tinker with his phone when you talk to him.
Fed up with with his desk job in the suburbs, Jason quit and took up with childhood-friend Brad to fulfill their brewing dreams. Jason runs the books. He's fast-talking and quick to call a spade. German and Jewish. Usually bobs one of his legs when he's sitting down.
Though Brad and Jason tell me they intend to remain a two man operation, help is never too far off. Fitz frequently stops in to lend a hand. At 6'4, Fitz is that friendly bald guy who gave you your first taste of Hill Farmstead. Dubbing him a beer missionary would be an understatement. With Fitz on call, Spiteful also keeps Jason's younger brother Jonathan Klein around. But only as a volunteer. Evidently, beer is thicker than blood. 
Fortunately for Jonathan, Oskar Blues Brewery scooped him up late-January, brought on to handle their Chicagoland merchandising and promotions—a far cry from the Indy Car racing of his early twenties. Frankly, Jonathan and Jason are better off in different brewhouses. I get the impression that Spiteful isn't big enough for the both of them.
For now, tucked away in the bowels of an industrial warehouse space, Spiteful plans to remain a production-only brewery. A tap room and bottle shop may come in time, Brad says, but Spiteful's focus is on getting beer into the market, at stores and bars that believe in their beer. A favorite of Brad's, Four Moons Tavern now carries three Spiteful beers.
Last December I was at the Lakeview Binny's when a woman mistook me for an employee. She asked for me for a Christmas beer recommendation. I directed her to a shelf with local beers, pointing to Pipeworks' Santa Vs. Unicorn Barleywine and Spiteful's Jingle Balls Spiced Winter Ale. She burst out laughing and bought six Jingle Balls "for the label alone."
Can you blame her?
Fork lifts buzz through the basement's wide corridors. Upstairs, drills whir and saw blades ring from an auto shop, the mechanics smiling and switching from Spanish to greet me with a "hello." Little can be heard from the space next to Spiteful, home to Letherbee Distillers. But Distiller Brenton Engel frequently stops in for a beer, bringing bottles of his own gin and absinthe. 
On the whole, the building's tenants are excited to know beer is being brewed near them. Curious, they stop by unannounced, delighted by the novelty of working in the same building as a brewery. Brad and Jason graciously field their questions, happy to offer them a bottle of GFY or Burning Bridges as they're sent on their way.
I suspect these visits happen more often than they like. When over six people are in it, the brewhouse feels stuffy.
Fitz and Jonathan are on the bottler. Brad is testing GFY's carbonation, pleased with the thicker, more robust third batch. "It's dialed in, man," Brad says. "You've gotta try it." 
So I do. It's chewy and creamy, like a fudge sunday with malt powder on top. A hint of vanilla. Lots of roastiness. Since I tried the first batch, I can agree that this really is the one. I'd say it's the best stout I've had all winter.
Jason and his fiancée visited California this past December. Having brought a few Spiteful beers in their carry-ons, they gave their tour guide a bottle of GFY when they visited Stone. One month later, the two had forgotten about their peace offering. Then Jason received an email, from the fellow they'd given the bottle to. The Stone tour guide said that he had shared it with some of the guys at the brewery during a tasting. Turns out, GFY was their favorite, beating out Bourbon County Brand Stout, Cantillon sours, and beers by Lost Abbey, among others. High praise.
Brad and Jason probably wish I hadn't included that. Had to, fellas.
Of course Fitz brings Heady Topper. It's like he has a vending machine stocked only with the most sought-after beers in America. "Sorry about the freshness, guys. It's four days old," he says. Ridiculous. I've heard Fitz use the phrase "beer karma." Whatever that is, he wrote the book on it. I've never met someone more generous with their beer.
But there is work to be done. So we finish bottling GFY, tape the cases shut, move the pallet into the hallway, break down the table, and clean up the puddles of stout. 
More of the brewing of GFY. Oats and oats and oats.
As a bike messenger for two years, Brad became hardened to the dangers of careless pedestrians and drivers. Don't believe me? Spiteful's Bitter Biker Double IPA will be hitting taps and shelves in early-February. And let me let tell you, it's a doozie. Mightily bitter, dry, and backed by a subdued malty sweetness, Bitter Biker will be well received by Chicago's hop heads. It already has been.
Alongside outstanding new beers by Pipeworks, 18th Street, Solemn Oath, Lake Effect, Revolution, and Begyle, Spiteful's Bitter Biker was one of the first kegs to kick at a recent Tap This! event hosted by Fischman Liquors & Tavern. 
January 24, 2013. I sensed it was no ordinary tapping the moment I walked into Fischman's. The place was packed, the hype was palpable, and the taplist delivered. Brewers, fans, and barflies convened for what became a raucous celebration of Chicago craft beer. [Credit to Brandon Weninger for the following two photos.]
As the crowd thinned out, with most of the kegs kicked, Bartender Jim Wojo pulled out a few of his own bottles to share with nearby patrons, including Founders Bolt Cutter and Arcadia Bourbon Barrel-Aged Imperial Stout. My palate was in tatters, Jim, but I remember those being delicious. 
Aleman was also present, pouring their Iron Brew-winning Dayman Coffee IPA, as well as a tobacco-forward Imperial Stout. I'm certain the place was pushing capacity, and on a Thursday, no less. Yet events like this are happening more often in Chicago, to greater turnouts, with increasingly stacked taplists and strange themes. Spiteful seems poised to brew accordingly.
If you're a biker in the city, I defy you to pass up a beer with a label like Bitter Biker's.
January 26, 2013. Following Pipeworks' lead, Spiteful has agreed contract brew for 18th Street Brewery, allowing for 18th Street Founder & Brewer Drew Fox to double his output of beer for the Chicago market. Drew expects to have 18th Street up and brewing in Gary, IN by August 2013.
That Spiteful stepped up and offered one of their tanks to Drew is a testament to the brotherhood among Chicago brewers, and specifically the brotherhood between Spiteful, 18th Street, and Pipeworks. Brad and Jason tell me that the decision to contract brew for 18th Street was common sense. When Drew calls Brad his best friend, I have no trouble believing him.
Chicago's craft beer boom has been a joy to watch. Over the past two years alone, dozens of breweries have emerged: some have thrived, some have failed—all have struggled. We've seen breweries big and small give badly needed equipment and raw material to other breweries, in the form of walk ins, kegs, tanks, hops, malt—you name it.
Still, this charity among brewers simply does not compute for some. Why give with no expected return? And to your own competition, at that? Two months into production brewing, what sense would it make to give someone else a tank in your own tiny brewery? To Brad and Jason, it makes good sense.
Smiles and spent grain from the brewing of 18th Street's Sinister Double IPA. The day begins at 7:00am. Sleet and a brutal wind outside, but it sure is warm in the brewhouse. Drew arrives and starts to mill the grain. Brad comes thirty minutes later, leans his bike against the wall, unbuckles his messenger bag and fires up the kettles. Ice and snow are clinging to his beard.
I take a better look at Brad's bike, which is covered in stickers. Pipeworks beer labels, brewery logos—emblems from around the country. A beer billboard on wheels. 
Jason arrives later on, still wearing his foot brace, the result of an accident I'm sure he'd be happy to tell you all about. He ties his dog to the table by its leash and opens his laptop. Today he is working on the copy for the Bitter Biker label. Around then, Claudia takes lunch orders for Dinkel's: two Woolworth's, two Rothschild's, and two Harry Starr's. She says she doesn't feel like picking it up by herself, so I tag along. Then I realize why she wanted company: it's Saturday, and we're driving down Lincoln Ave. The traffic and number of strollers are staggering.
We come back an hour later carrying two bags filled with pastries, doughnuts, soup, and sandwiches. 18th Street's inaugural brewday at Spiteful is grounds for a feast. 
I hope Jason never takes off that boot. 
Drew begins the final hop additions while Brad takes us to the roof. The sun sinks a little lower and Jason lights a cigarette. "Don't tell my mom," he says. Looking out on the skyline, I'm reminded of how expansive the city is. It's no stretch to say that the landscape of Chicago's breweries may soon resemble the early 1900's, when breweries—estimated at around sixty—provided their neighborhood taverns with fresh, locally-brewed beer, delivered by horse-drawn wagon. 

The well-to-do neighborhood of Ravenswood has had a particular attraction to breweries this past year, having taken in both Spiteful and Begyle. Oh, and then there's Half Acre, whose long-awaited tap room quickly gained acclaim among locals, beer enthusiasts, and brewers. With good reason—the place is a marvel of woodworking. But it's their tap-only releases that bring all the boys to the yard. Brad and Jason being two of them.
After a six-month wait, the kettles and tanks from Portland Kettle Works have arrived. Typically, the wait is said to be around four months. But in this case, the customization took longer. Jason and Brad couldn't be more happy with their decision to buy new equipment, and from a reputable American company.
In the brewhouse, songs by Tom Petty and Bob Marley give way to 90's hip hop. Jason cracks open a Central Waters Bourbon Barrel-Aged Stout while we wait to transfer Sinister. Drew is beaming—the brewday for his second contract-brewed beer has come to an end.
Brewing on a 2.5 bbl system, with 5 bbl fermentors, Spiteful is proud to be small, making no hasty plans to overextend themselves. Jason and Brad are proud of their beer, too, and proud to be brewing in Chicago—their beer is an illustration of that. So watch out for these guys. Especially if you're behind the wheel. They'll be in the bike lane, and they'll probably be bitter.
Rockford, IL. November 2012.
I walked into their meeting at a tense moment, amid an argument about whether the Forest City Brewers could caravan up to New Glarus Brewery with the security of adequate car insurance. The short answer was, "No, we can't." One voice persisted, maintaining that a waiver could be drafted, that in the event of an accident, liability would not be unfairly assigned. "We can't take that risk," said Micheal Sears, Treasurer of the club. "It's just not worth it." The room shuffled. "We've talked about this before," Sears continued. "We can't do it."
Four title-bearing club members sat facing a few dozen others who listened to Sears discuss the previous and coming month. Nothing extraordinary. A reminder about member dues. No New Glarus trip, period. And for the time being, homebrewing legislation appeared stalled, or unsatisfactory. Thirty minutes pass, and then, beer.
Everyone receives a token for when they've determined their personal favorite. White numbered lunch bags are placed behind the pitchers. Aside from the brewers themselves, no one knows who has brewed which beer.  
My first pour was an oak-aged Imperial IPA: heavily malted, booze on the nose and finish, and with more wood character than I cared for. On to something else, then. I circled the table and took a pour of the Imperial Stout: nicely roasty, undercarbonated, and slightly thin, but pleasant all the same. The token remained in my pocket. 
After trying each of the offerings—from Hefeweizen to Cream Ale—club member Tim Lundquist and I dropped our tokens in bag number 8 before pouring ourselves another for good measure. Our winner was clear: Captain Commando Kölsch, brewed by Alex Cando. True to style, Cando's Kölsch was crisp, dry, with a mild vinous aroma and grain flavor. I was surprised to be drinking so much Kölsch on a cold night in November—when Cando was announced the winner, his grin of satisfaction convinced me I wasn't nuts. He had absolutely nailed it. The recipe can be found here.
Captain Commando went on to claim first place in the homebrew category at 2012's Beer Hoptactular, while Forest City Brewers earned the title of Homebrew Club of the Year; B.O.S.S. (Brewers of South Suburbia) took second and C.H.A.O.S (Chicago Homebrew Alchemists of Sud) took third.
For a city with only two breweries in the immediate area—Carlyle Brewing Co and Pig Mind's Brewing Co—Rockford's homebrew community has impressed me by its scope of brewing creativity. Forest City Brewers are brewing fine beers and meads, but quietly. I first discovered them at 2011's Screw City Beer Fest in Rockford—the mead and Black IPA were among the crowd's favorites of the day. Since late 2011, however, the public hasn't had much opportunity to try offerings by the Forest City Brewers. Club Treasurer Michael Sears explained why:
"In the past the Illinois Liquor Commission pretty much left homebrewers alone," Sears said. "But with the explosive interest in craft beer and homebrewing, the ILCC has moved to interperate the current regulations on the books differently."
Meaning the once gray area of serving homebrew at festivals is now starkly black and white—no homebrew is to be served at festivals. If you're an Illinois resident who buys alcohol—especially those in Cook County—take note of the taxes on your next purchase. Does this sort of regulation come as a surprise? "Legislation was introduced late in 2012 to change these restrictions," Sears said, "but they never made it out of committee."
My guess is that we'll see headway as soon as Springfield creates a tax on homebrewing that is more than nominal. But Sears is optimistic: "Illinois may follow Wisconsin's lead and loosen the restrictions against homebrewing." For the sake of any craft beer drinker in Illinois, I anticipate the same outcome.
In 2013, a third brewery will be added to the stateline's landscape, in downtown Rockford: Rockford Brewing Company, slated to operate from the facility once used by Peacock Brewery (1849-1922). Theirs will be a scenic view, overlooking the Rock River and State Street bridge, sharing a space with the Prairie Street Brewhouse (note: brewhouse in name only, a nod to Peacock Brewery). It is rumored that a brewer from Great Dane Pub & Brewery will be named to the brewing staff. 
A third brewery will provide badly needed competition to long-time hometown favorite, Carlyle—located a mere two blocks from the Prairie Street Brewhouse—as well as to newcomer Pig Minds, located in Machesney Park. Make no mistake, Rockford's community is curious about craft beer. Only, I dream of a day when Rockford champions bars with no televisions or shot specials. For now, it is home to precious few craft beer bars, including Oasis Micro Pub, Kryptonite Bar (curated by Cicerone Aaron Sleger), and Olympic Tavern (curated by Laurelwood alum Zac Rotello). They are the lighthouses of downtown.
Rockford Brewing Company would do well to put one of Rockford's own at the brewing helm, considering the brewing talent in the area. Given that I was raised in Rockford, I have an obligation to keep tabs on its beer culture, which bars finally got a Sierra Nevada tap handle, and which friends have begun the transition from Bud Light to Fat Tire.
In general, the people now seem more receptive to paying $10 on a six-pack than, say, two years ago. Anthony Artale from Artale Wine will probably tell you the same thing. Is that the result of increased exposure to and appreciation for craft beer? I believe so.  A rising tide lifts all boats. The Forest City is brewing. Let it pour.
The Forest City Brewers meet monthly, at Thunder Bay Grille. For those interested in joining, refer to their website: http://www.forestcitybrewers.org
It was a dream that began in Chicago, in honor of 18th Street. Drew and his wife fell in love with Pilsen. Having been raised in Humboldt Park, Drew felt right at home among the incredible diversity there. Plans to open a craft beer bar were formed—after moving to Gary, IN, those plans went by the wayside. New plans were laid, a vision to open a brewery in a community without one. Though it is no longer the Gary of The Music Man, something just as lively is breaking ground there. And it's not a Tribute to Michael Jackson Dance-off.
Introducing: 18th Street Brewery. 
Since its opening, Pipeworks has been a growing family to the craft beer community of Chicago, welcoming entrepreneurs, brewers, and bedroom musicians together under the flag of craft beer. For months now, Drew has been a brewer at Pipeworks, in the company of Beejay Oslon and Scott Coffman. Putting in his time as a brewer has allowed Drew to hone his skills on a production-scale brewing system. He's had a significant hand in the brewing at Pipeworks since batch eight—batch sixty-four is being brewed as I write this. And yet the launch of 18th Street has been anything but secret.
Sunday, 9:00 a.m. Gary, IN.
"I usually brew a few batches here on the weekend," he says. But today he's brewing just one, a Blonde ale, using traditional and non-traditional spices, such as jicama. Drew leads me around back to the brewhouse. The space is tidy, one he built himself with his cousin Jermaine Fox. High ceilings and exposed insulation. In working alongside Drew at Pipeworks I'm confident that cleanliness will not be an issue at his future brewhouse in Gary. The challenge may instead be this: proving to Gary that it is worthy of investing in itself. 
It goes without saying that Drew's investment in Gary is his brewery, 18th Street. An investment that comes with risks he has recognized, embraced, even. Here is a man who has quit his day job as a restaurant manager in Chicago—at a 5-star hotel, no less—to realize his dream.
On weekday mornings, Drew boards the South Shore Line en route to Chicago. Up before the sun. Convenient that the train stops no more than a block from his house: a modest two story, white paint peeling, the front bay window facing a boarded-up lot. 
"It's a depressed area," Drew says. "So much potential. But yeah, it's depressed." As it stands, the latter is more readily mentioned. In 2011, a group of photographers from Rockford, IL took the opportunity to contrast the condition of their city—having been ranked by Forbes as the 9th most dangerous in America—with the apparently worse off, more miserable Gary, IN. The photos stand for little more than a journalistic cheap shot. 
Stirring the boil, Drew reflects: "But the people of Gary deserve better." 
We open a few Pipeworks beers, and Drew shares his excitement for 18th Street's first two releases. The second release is of a style you might expect. But the first release, well, he'd kill me if I gave too much away. It's a strange style. I had to ask him to spell it out for me, because I'd never heard of it before. 
Sunday, 11:30 a.m.
Drew says we're done. It is his birthday, after all, and he's looking to get the jump on a visit to Three Floyds. The wort left to cool in the brewhouse, Drew leads us into his basement, or "The Nubian Overlord lair." This is where the fermentation happens.
A refrigeration system is in place. Two carboys bubble away, each cloaked with temperature-controlled fermwraps. One carboy of a spicy, pepper-infused Imperial Stout rests on the other side of the room. "It's almost done, man. The fresh hop," Drew says. He pulls a sample of Lyndale IPA, his first fresh-hop beer, and one that would not have been possible without the generosity of Robert Chamberlain.
In getting to know Robert Chamberlain I think I can fairly well pin him to three personality traits of note: he is approachable, fiery, and above all, German. His voice is downright booming. Dark head of hair and some gray along the sides. Mustached. Later, over beers at his house in Logan Square, I wondered if a noise violation wasn't in order. Although, after our conversation I'm certain the the neighbors will have no trouble pronouncing Weihenstephaner.
Oddly enough, I met Robert through Andy Coleman, head brewer at Piece. Robert told me he had been growing fresh hops, and I said I'd have them put to proper use. So we picked them, and Drew made a fresh hop IPA. Community, man. 
In terms of the 18th Street bandwaggon, I'm a little late to the party. Drew's vision has been embraced by many in Chicago, old friends, new ones, and comrades in brewing, eager to support in whatever way possible. They'll soon have their chance. Later this week Drew will launch his Kickstarter campaign. The ETA on bottled 18th Street beers is early 2013. 
Last month, at the request of Brian and Chris of Tesa Cigar Co., Drew poured two 18th Street beers during an event hosted for Drew Estate. Brian and Chris have been a huge support to 18th Street, offering a venue for Drew to pour his beers once a month. As usual, Drew was warmly received—the place was packed, and both kegs kicked. Through the haze of cigar smoke, friends and first-time 18th Street drinkers alike embraced Drew, congratulating him, asking when the beer will on shelves. I'd suspected it, but right then I knew: Drew is actually going to do this.
Sunday, 4:00 p.m. Munster, IN.
Sitting inside Three Floyds Brewing. Over poutine and Topless Wytch Drew reminds me that the Humboldt Park of his childhood is worlds apart from what it is today. Racial tensions had been high. Gang activity was rampant and bloody. Drew remembers a time when knowing the right people could allow you—or in Drew's case, his wife—simply to walk alone through the neighborhood. I get the sense that those years in Humboldt Park have afforded Drew more than street smarts and cool—they've equipped him with an unwavering determination to succeed. 
I'm struck with the idea that the people sitting with us at Three Floyds—however far they drove—may soon add 18th Street to their docket of Indiana brewery stops. I hope like hell they do. And with what Drew has in store over the coming months, I'd imagine he'll give them more than a few reasons to do so.
"Gary is undergoing a renaissance," Drew says. "That's a testament to our new mayor, Karen Freeman-Wilson." If there's a renaissance in Gary, I'm convinced Drew is a part of it. On the brink of launching his Kickstarter, Drew has posed this challenge to his family, friends, and supporters: "All in?"
We are. I am. Are you?
My cousin Seth Ekberg filmed and edited an interview with Drew. Drew talks about what community means to him, brews the aforementioned Blonde ale, and takes us on a walk through Gary. Click the link below.
Great American Beer Fest was a few weeks ago—let's recap: turns out the Midwest swept the American Pale Ale category—no small feat, with 109 entries in total—while both Goose Island and Revolution Brewing took Gold for their IPA and Cross of Gold, respectively. Right on. 
To the collective groan of area liquor store employees, Three Floyd's took the bronze for Zombie Dust. Piece Brewery & Pizzeria returned from Denver with a silver medal for The Weight. Their chalkboard of accolades is nearly full at this point. And the unlikely Brickstone Brewery won gold for their Brickstone APA. Hey, hey, Bourbonnais. 
This Kettlekeepers story is about Piece's Head Brewer Andy Coleman. It's also about what happens when you're introduced to the stranger beside you at the bar. Above all, it's a close-up on someone who would never seek one out.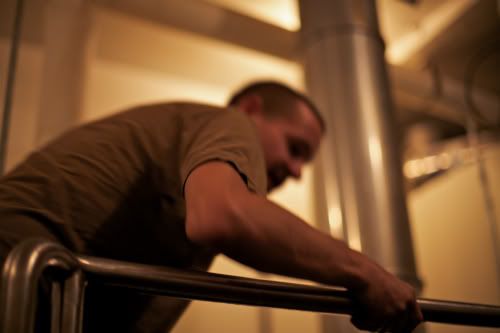 I first met Andy at Pipeworks. He would stop by around 6:00pm, often after a double-brew day. Wabansia felt magnetic. I had trouble remembering everyone's names then. I liked the way Andy would make the rounds, cigarette dangling and a wisecrack in the exhale. He'd open a growler of The Weight or Victoria and share brewing stories, some from his days brewing in New Mexico. This was before it got too cold to keep the S&R door open. Before Brad and Jason of Spiteful had their own fully equipped brewhouse—word is they'll have bottles on shelves by Thanksgiving.
I don't see Andy as much anymore. But when Piece won silver at GABF I knew I'd found my reason to visit and take a few final pictures to complete the story.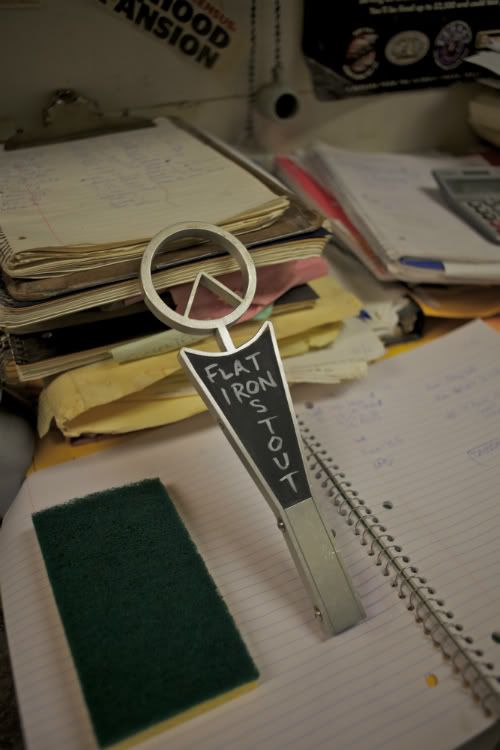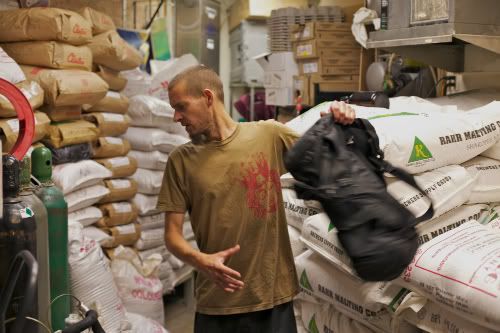 Piles of malt along a corridor back to the tanks. Note: as a rule, never eat and then leave the remains of your meal near open bags of malt. Andy will not be happy. Mozzarella Kölsch, is that what you want? 
For as particular as Andy is about the brewhouse, he was more than happy to let me tag along and take pictures, once in September and once right after The Weight won silver. He just really likes the Alpha King t-shirt.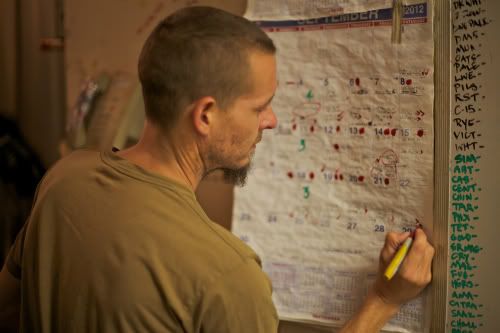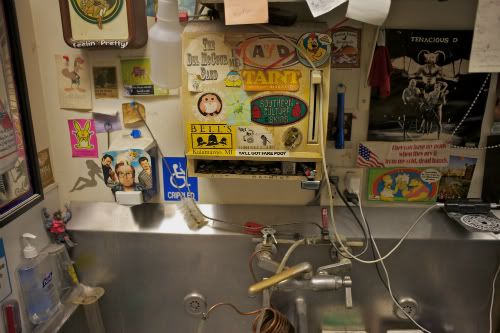 I could praise Andy for his work ethic and dry sense of humor, explain that The Weight couldn't have been more deserving of the silver, a complement to Brewmaster Jonathan Cutler. Rather, what I most admire about Andy is that his interest in beer extends beyond its brewing: he cares about the people drinking it. If he's not in the back brewing, he's out in the restaurant, trading barbs with Darcy at the bar or shooting the breeze with regulars.
Each time I've been to Piece Andy has introduced me to the person sitting next to me. That's hospitality. One introduction resulted in my spending a Saturday picking hops in Logan Square. More on that next week.
So how do you bring strangers together? Beer is a start. A good host. Pizza's not a bad idea, either. How novel. If you haven't figured it out yet, Piece is a Wicker Park must-visit.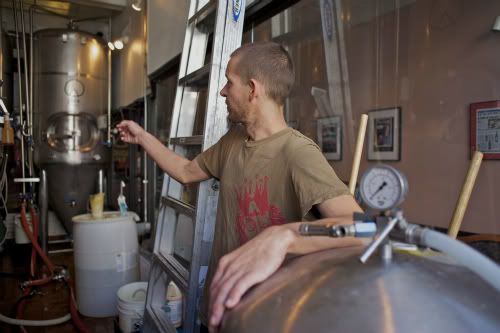 Calvin: "Don't worry, Brandon, you're looking jacked."
Brandon: "Welp, uh—"
Andy: "I'm Humpty Dumpty, boys!"
Correct me if i misquoted that, guys.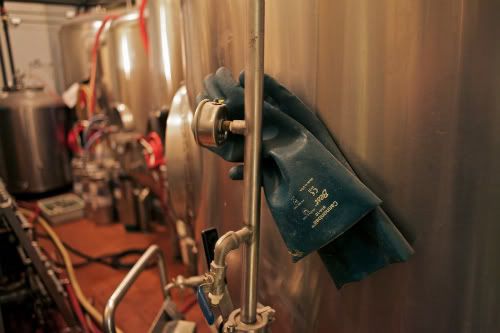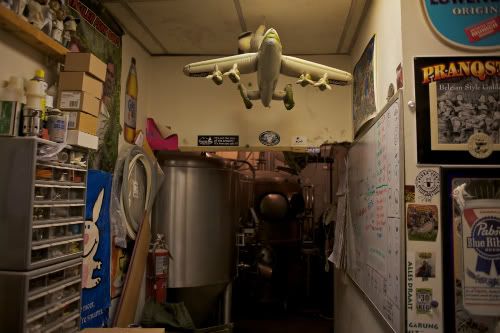 Touring through the brewery, Andy rattles off ideas for upcoming beers and thoughts on beer culture in Chicago. He relays his excitement for GABF, which was weeks away at the time. The surroundings are a little claustrophobic, but the current brewhouse is efficient and the demand is high, Andy says, so an expansion isn't quite in order yet, although it is in the pipeline.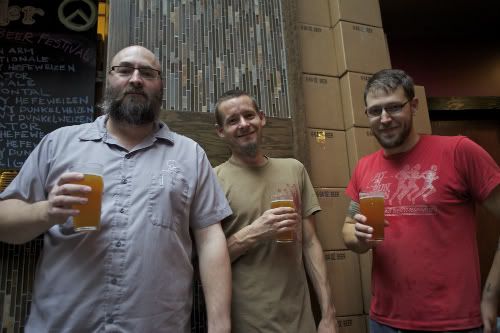 Brewmaster Jonathan Cutler, Head Brewer Andy Coleman, and Assistant Brewer Brandon Stern, with their silver medal-winning APA, The Weight. The newest addition to the Piece brewing team, Brandon is also enrolled in a course at Siebel Institute. Cheers to good beer being brewed by good people in Chicago. Carry on, Kettlekeepers.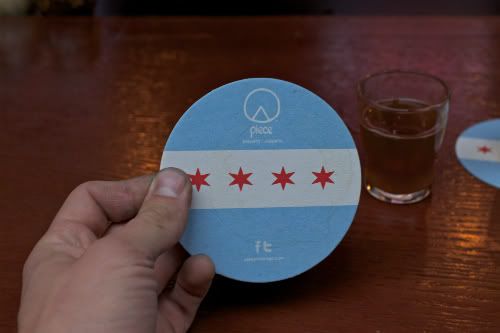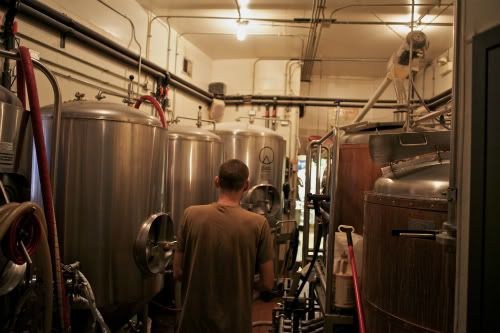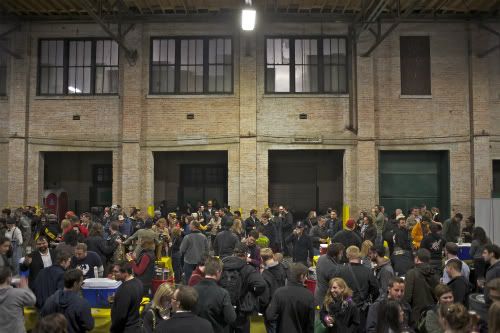 Ed Marszewski throws one hell of an Oktoberfest. While certain Oktoberfests favor the seasonality of a bottomless Märzen stein, this particular Oktoberfest was held in celebration of the second edition of Chicago's own craft beer journal, Mash Tun. Get your mits on one here. Great coverage, stories, photos, and interviews within.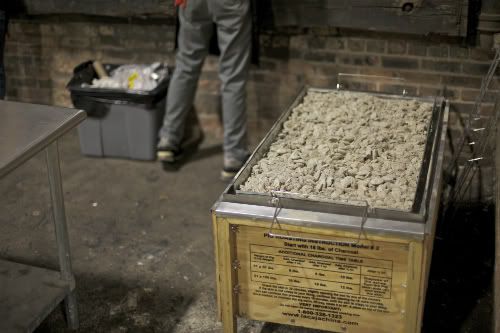 Spent coals from a complimentary pig roast by pork enthusiasts Flesh for Food. The line for their sandwiches coiled around beer vendors for fifty feet. By 7pm the Bridgeport Art Center Atrium was packed. Upon entry, attendees received a Mash Tun journal and a glass. Pours were generous. The Port-a-John wait was reasonable. All present were in high spirits. I never got to try the pork sandwiches.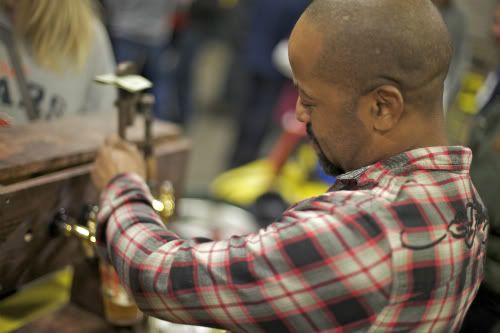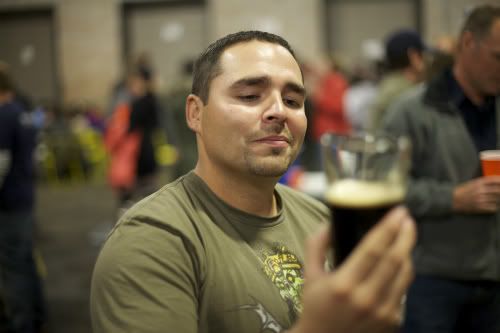 That's Eli holding Three Floyds' Snow Weasel. Definitely a highlight for many of us. Jolly Pumpkin tapped what I think was called La Pareles, which was superb. Other standouts: Half Acre's Sticky Fat, 5 Rabbit's 5 Grass, Pipeworks' Blood of the Unicorn, and to whomever was pouring Founders, a collective "thank you" from all of us, for the full pints of Breakfast Stout.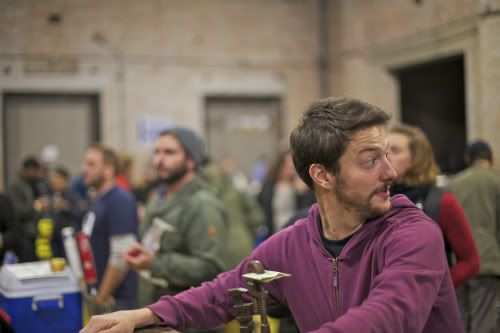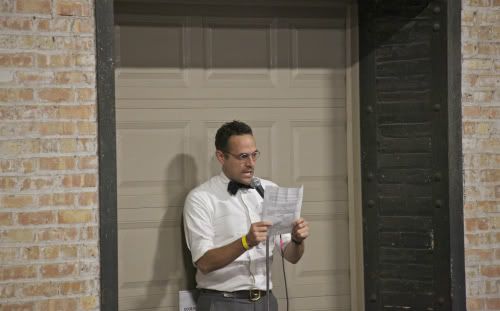 Max Wastler of Buckshot Sonny's and All Plaid Out resurrected verses by poet S.E. Kiser, penned in the early 1900's. Kiser spoke out against the absurdity of the temperance movement that ultimately preceded prohibtion. More about that here, from the perspective of this very poet's great-great-nephew, Michael Kiser.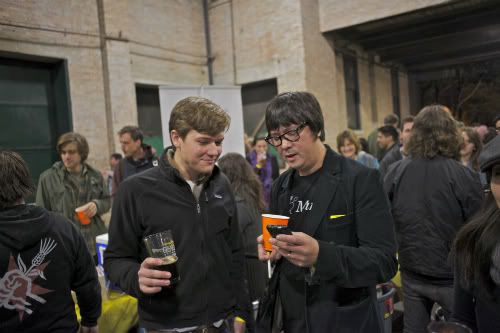 The Pipeworks crew looking downright unfriendly. Frightened by Bobby's leather jacket? Me too. Dates back to the 60's. Cool as a rail; holey as a block of swiss.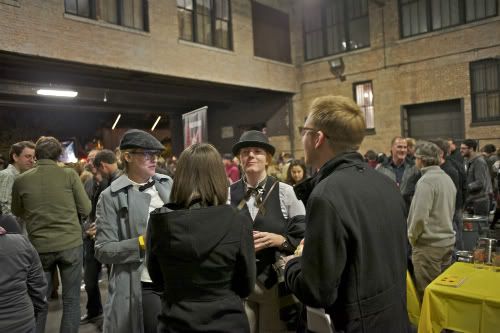 Cheers to a marvelous, cold night in Bridgeport on October 5th, 2012. Like what you see? Ed calls Bridgeport the "Community of the future." He might be right. Stop by Maria's and see what all the fuss is about. 
Note: You are seeing a picture followed by a slam poem directed at someone I care about. The first subject is Skyler. This Poem Is Treason.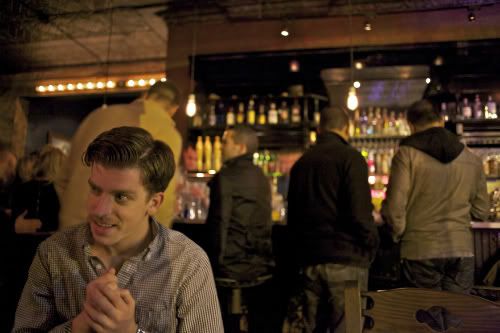 I'll get you, my pretty,
if it's the last thing that I do. 
They know me here at Scofflaw.
Have you seen my tattoo?
Bunch of candles on the table—
it's like they never learn.
Banned from Local Option 'cause
I spill what I first burn.
Waiter! One Tom Collins;
she'll have a Weatherbee.
I just can't wait to get you all alone, my dear,
and kiss you on the cheek. 
Looking like a million bucks.
The pomade and the perfect cuff.
I'll get you, my pretty, 
if it's the last thing that I do.
Nine miles back to Bridgeport.
I'm broke from all the drinks.
Let's walk it then, my pretty,
and pray we don't get jumped!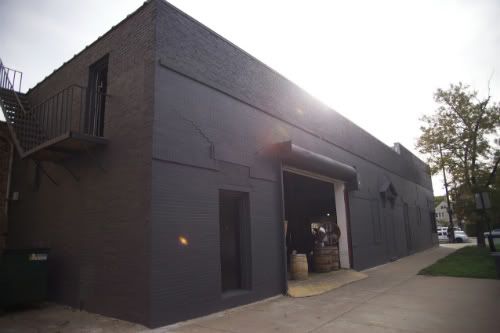 The corner of Wabansia & Western smells like beer, and Pipeworks is the reason. I had been biking past their warehouse when I saw eight people standing inside the loading dock, drinking and laughing. So I stopped and talked to the one who most closely resembled a brewer, Beejay Oslon: bearded, tattooed, and shirtless. He invited me to come back the next day to photograph the brewing of Foolish Wit. I took the pictures, sure, but ended up staying to lend a hand.
Today marks the two week mark.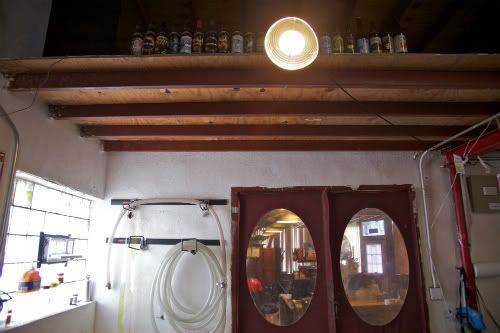 Bottling is usually Monday-Wednesday, while Thursday and Friday are brew days. Today they brewed what is perhaps their most popular beer, Ninja vs. Unicorn, a delicious and mightily bitter double IPA. Don't expect it to stick around for long, though—sometimes you're lucky if you find it on shelves past two days.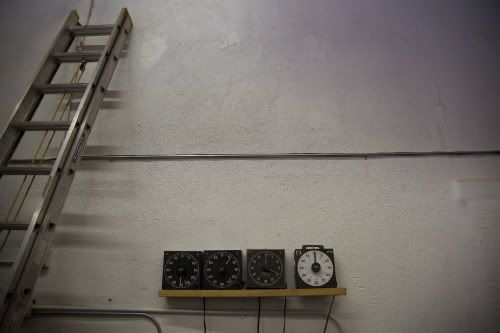 Over the past two weeks at Pipeworks I began to piece together just who all these people are. In addition to volunteers, I realized Pipeworks co-founders Beejay Oslon, Gerrit Lewis, and Scott Coffman were in the talented company of two other brewers: Andrew Fox of 18th Street Brewery (Gary, IN) and Brad Shaffer of Spiteful Brewing (Chicago).
The brewery end of Pipeworks—the mash tuns, fermenters, oak barrels, etc—bear most accessible payoff for the consumer: beer. But the business end of Pipeworks is not to be overlooked. Each day in the Pipeworks office, Gerrit and Bobby can be found consulting with accounts, placing orders, handling distribution, coordinating events, overseeing deliveries, and planning the construction of their upcoming on-site bottle shop. The two of them largely head up the social media arm of Pipeworks, one that "flexed," as Beejay has been known to say, its muscles in a wildly successful Kickstarter campaign. 
I've also come to see that any one of these guys can do and does virtually every other job under the roof, in the office or out in the brewery. It's a breadth of skill and perspective from everybody involved that reminds me of the '03-'04 Detroit Pistons. I do not know how to finish that analogy, but I'm sticking with it.
Three arbitrary observations of Pipeworks:
1.) Lunch is provided daily. Knock on wood.
2.) Conversation can spill over from days and months prior. I have to wonder how long everybody has known each other.
3.) Foolish questions are subject to being laughed at, but never go unanswered.
There is no pretense, no hierarchy, only work to be done.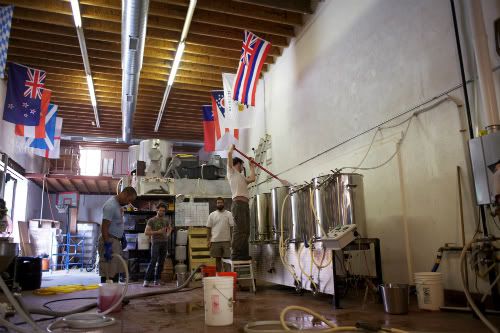 All told, the age-gap of the volunteers and brewers spans about thirty years. It seems there is a brotherhood here, an affinity for good beer, literature, music, and a sense of humor informed as much by the locker room as the Huffington Post. 
Camaraderie at Pipeworks is sustained by many things, I've gathered, but of particular note is their ability to sabotage the inevitable late-morning funk. Nearly every morning around 10:00am someone comes to work with doughnuts. Chocolate, cake, pumpkin doughnuts. Sometimes breakfast sandwiches. This is to say, "I love you guys. Enjoy. Your turn tomorrow."
These days the fermentation tanks are full. The floor is lined by pallets loaded with bottled beer. Shipments of hops, malt, bottles, caps and labels are frequent—Pipeworks is bustling. They remain entirely self-distributed. Industry friends and curious neighbors stop by routinely. No one goes ignored.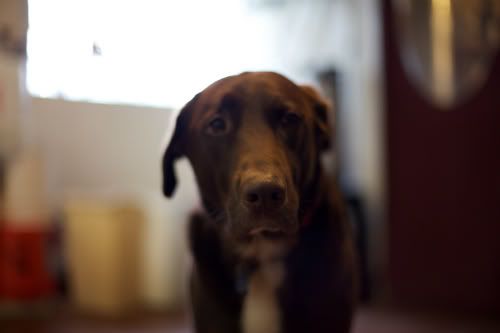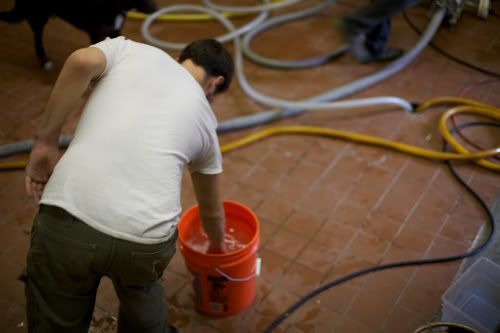 "Do you guys have a tap room?" "Where can I get your beer?" And lastly, "Are you guys hiring?" I look around the brewery and see a team of hard workers, both paid and unpaid. The scarred hands of Scott stirring the wort of a spiced holiday ale. Brad is filling bottles and Mike is capping. Gerrit and Bobby are at their computers in the office, typing, printing invoices. Andrew is washing glasses and tri-clamps in the sink. Beejay tells the person asking that they aren't hiring just yet. 
At the rate this brewery is moving, however, that prospect may not be far off.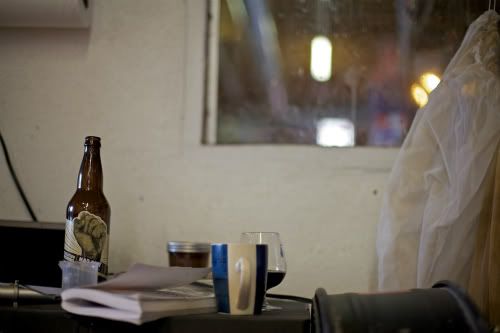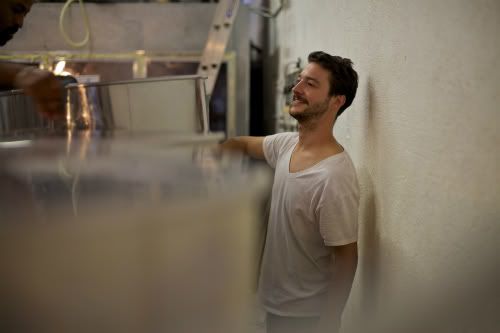 Yesterday was the bottling of a raspberry Berliner Weisse, Well Read Temptress. It was a cloudy, Ella Fitzgerald kind of day. But when the sun came out the Pandora station was changed to Bob Marley. Pipeworks' resident cat Kingston slept on bags of 2-Row malt, while Jonas, the namesake of Jones Dog Milk Stout, begged for a slice of pizza.
From 9:00am to 3:15pm we bottled nearly ninety cases of Temptress on a bottling line with only three spigots. An eight-spigot bottling line is being built, but the three-spigots are working just fine. And this is what I find so appealing about Pipeworks, the sheer practicality of their operation.
They renovated the building themselves. They tiled the floor themselves. The bottle artwork is done by friends or Beejay himself. This is their ambition—Beejay and Gerrit's dream over two years in the making—realized, funded and accomplished by their efforts and the backing of their supporters. 
The city—and for that matter, the country—has taken notice, attracting media coverage from the Chicago Tribune, Chicago Magazine, Draft Magazine, and beer enthusiasts nationwide. Last August I met a couple from New York who knew of Pipeworks, intended to buy whatever beer they could by Pipeworks, and wanted to trade for more Pipeworks upon their return to New York. Why should any of that come as a surprise? The beer speaks for itself. And the guys at Pipeworks have also shown that the feedback of those who try their beer is valuable—brewing missteps have been acknowledged and recipes have been altered as a result. Want to know what I'm excited about? It rhymes with Farleyshrine. 
'03-'04 Pistons. You heard it here first. Here's to my new friends at Pipeworks. I'll see you on Monday, fellas.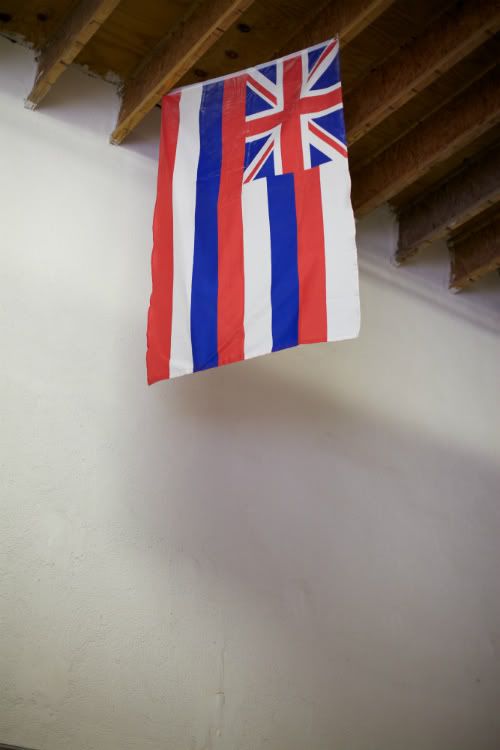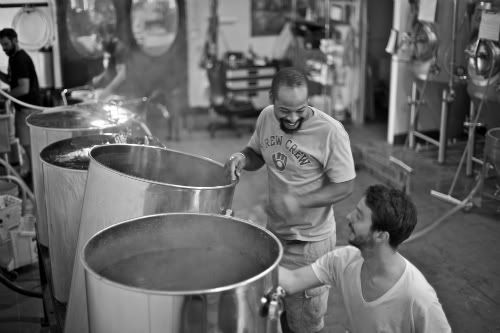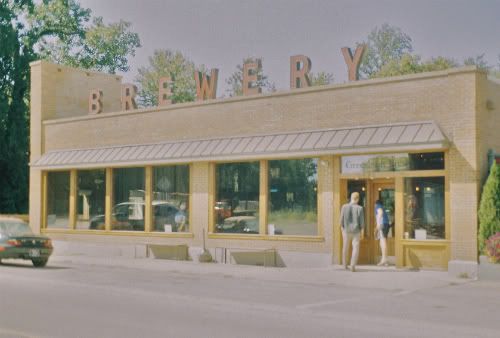 Part II of the Black IPA series: Rage Imperial Black IPA by Greenbush Brewery. We were headed to Ludington State park—Sawyer seemed like a sensible place to stop. Michael Kiser's coverage of Greenbush over at Good Beer Hunting gave me the idea. So we dropped by, picked up a growler of Dunegräs IPA and a bottle of Rage (after Matt pulled me a sample), and we were on our way. 
We finished the Dunegräs and watched the sun rise over Lost Lake. The ground at our campsite was hard and the drone of our neighbor's TV was depressing. I don't think any of us slept well. Good hiking, though. Later we watched the sun set over Lake Michigan and felt better.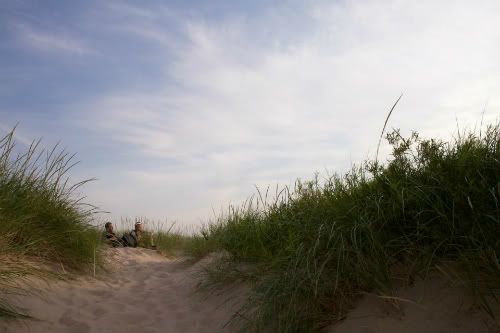 Two nights ago I opened Rage with Joey. At long last. Rage in all its roasty, piney, meaty glory. 14.6% ABV, 156 IBU. Hops: Goldings and Cascade. Coffee additions as well. I might as well say up front that Rage is a downright monstrous beer.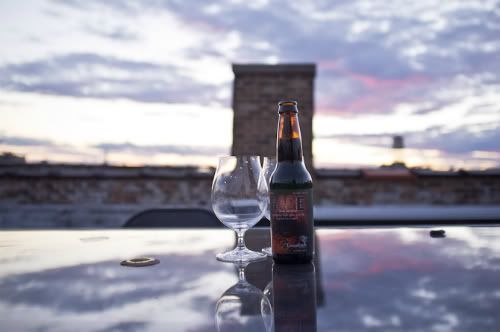 Appearance: Jet black. No light coming through whatsoever. Small brown head with tight bubbles. Alcohol legs. 
Aroma: Hops. Chocolate, coffee, soy sauce. Hop profile is earthy, resinous.
Mouthfeel: Heavy-bodied. Thick, syrupy. Moderate carbonation. Very little booze burn. Extreme chocolate roastiness on finish. Hop bitterness quite present. My mouth is salivating.
Taste: Umami! Chocolate and coffee. Piney hops. Soy sauce. Date. Wait—yes, caramelized pork. Nutmeg. Very strange. Terrific.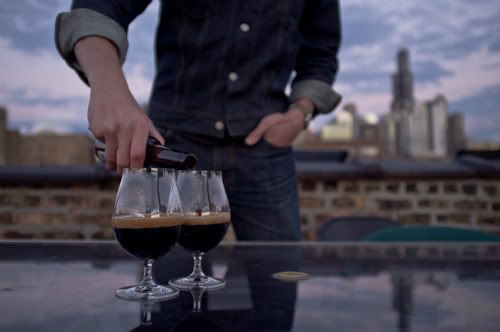 Is Rage a hoppy imperial stout? A malty black IPA? I'm not sure that matters. It's an exceptional, dramatic, and elaborate clash of roasted malts and hops. You'll find its younger brother Anger, also a Black IPA (7.6% ABV, 85 IBU), on tap at Kuma's Corner and Haymarket with regularity.
In recent months Greenbush has collaborated with some of Chicago's finest (i.e. Haymarket and City Provisions). I doubt they'll need much introduction as 2012 comes to a close. Visit Saywer, MI. Greenbush is there. Reason enough? 
Next week, in part III of three black IPAs: a west coast black IPA I picked up in Denver while on tour in a van I borrowed from the family of a childhood friend with whom I have long since lost touch. Thanks, Kyle. 
Pictures by Joe Lieske, Seth Ekberg, and myself.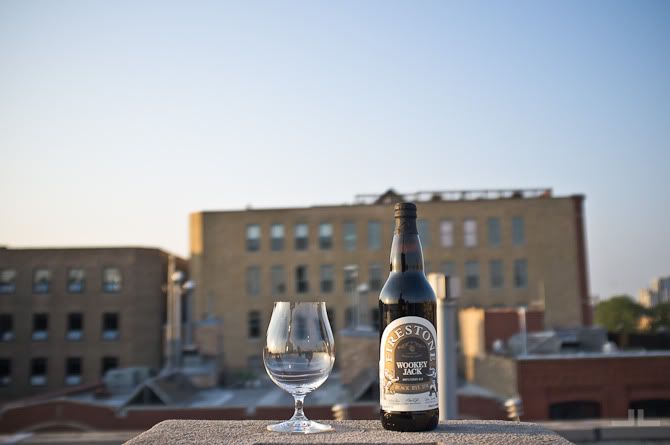 Wookey Jack is here. Lately it's been floating around festivals and beer gatherings, but only ever on tap. Firestone Walker announced its bottle release earlier this summer. Then they postponed it a week later. Well, it was worth the wait. Wookey is the first in a series of three Black IPAs I'll be covering. Somebody's got to do it.
Introducing: the Black IPA. Roasty, citrusy, chocolatey, piney. For all intents and purposes certain hoppy Porters or Stouts could also bear the title Black IPA (i.e. Flying Dog's Gonzo and Victory's Storm King). But to be specific, Wookey Jack is a Black Rye IPA. ABV: 8.3%. IBU: 60. Hops: Magnum (bittering), and Amarillo & Citra (aroma).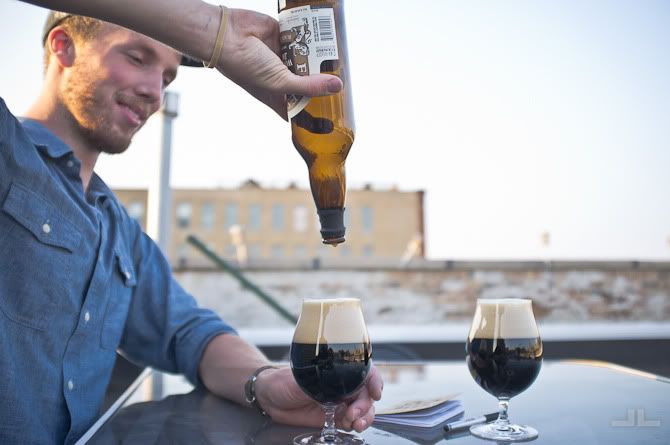 Appearance: Hazy black. Burgundy at perimeter when held up to light. Three finger khaki head. Looks pillowy. Mild lacing. 
Aroma: Orange zest and chocolate right up front. Pine. Sweet floral astringency coupled with assertive roastiness. Smells terrific. 
Mouthfeel: Light/medium-bodied. Effervescent and fairly dry on the finish. Lasting finish.
Taste: Bright hoppiness. Citrus character and chocolate. Neither overpowers the other. Balanced. Roasty sweetness and pine bitterness. Caramel. More citrus fruit. Mango. Mild spice from the rye. Hardly any booze burn. It's delicious. 
The verdict: extremely drinkable. I almost wish I hadn't split it with Joey. Strange to think Firestone Walker is located in the heart of wine country (Paso Robles, CA). There isn't a bad beer in their portfolio, and their labels are superb. Having good art and copy, I think, is critical in validating craft beer as having a place at our dinner tables, right alongside wine, and that it can be just as easily, if not better, paired with food. 
I challenge the Black IPA skeptic to dislike Wookey. Here Firestone Walker has struck a balance within a style few brewers have thus far. Let me say that number two in this series of three Black IPAs will not be so balanced. Hint: it was discovered in southwest Michigan. At over 14% ABV, I may have bitten off too much. Wish me luck. Coming next week.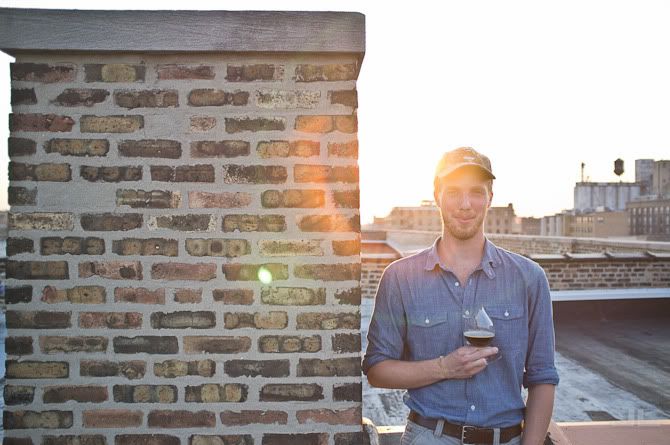 Pictures by Joe Lieske.