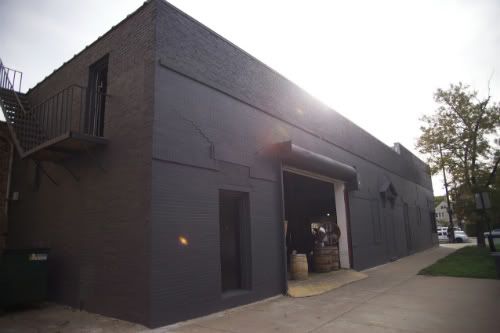 The corner of Wabansia & Western smells like beer, and Pipeworks is the reason. I had been biking past their warehouse when I saw eight people standing inside the loading dock, drinking and laughing. So I stopped and talked to the one who most closely resembled a brewer, Beejay Oslon: bearded, tattooed, and shirtless. He invited me to come back the next day to photograph the brewing of Foolish Wit. I took the pictures, sure, but ended up staying to lend a hand.
Today marks the two week mark.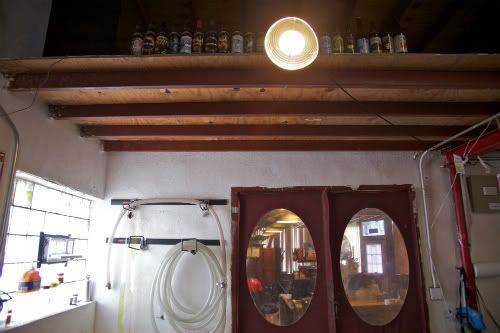 Bottling is usually Monday-Wednesday, while Thursday and Friday are brew days. Today they brewed what is perhaps their most popular beer, Ninja vs. Unicorn, a delicious and mightily bitter double IPA. Don't expect it to stick around for long, though—sometimes you're lucky if you find it on shelves past two days.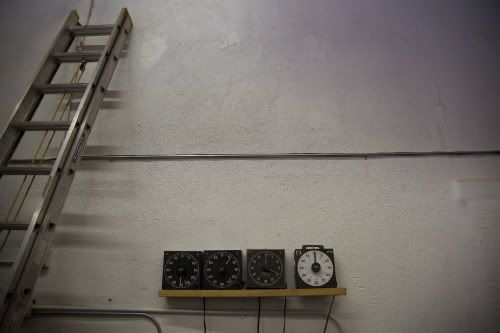 Over the past two weeks at Pipeworks I began to piece together just who all these people are. In addition to volunteers, I realized Pipeworks co-founders Beejay Oslon, Gerrit Lewis, and Scott Coffman were in the talented company of two other brewers: Andrew Fox of 18th Street Brewery (Gary, IN) and Brad Shaffer of Spiteful Brewing (Chicago).
The brewery end of Pipeworks—the mash tuns, fermenters, oak barrels, etc—bear most accessible payoff for the consumer: beer. But the business end of Pipeworks is not to be overlooked. Each day in the Pipeworks office, Gerrit and Bobby can be found consulting with accounts, placing orders, handling distribution, coordinating events, overseeing deliveries, and planning the construction of their upcoming on-site bottle shop. The two of them largely head up the social media arm of Pipeworks, one that "flexed," as Beejay has been known to say, its muscles in a wildly successful Kickstarter campaign. 
I've also come to see that any one of these guys can do and does virtually every other job under the roof, in the office or out in the brewery. It's a breadth of skill and perspective from everybody involved that reminds me of the '03-'04 Detroit Pistons. I do not know how to finish that analogy, but I'm sticking with it.
Three arbitrary observations of Pipeworks:
1.) Lunch is provided daily. Knock on wood.
2.) Conversation can spill over from days and months prior. I have to wonder how long everybody has known each other.
3.) Foolish questions are subject to being laughed at, but never go unanswered.
There is no pretense, no hierarchy, only work to be done.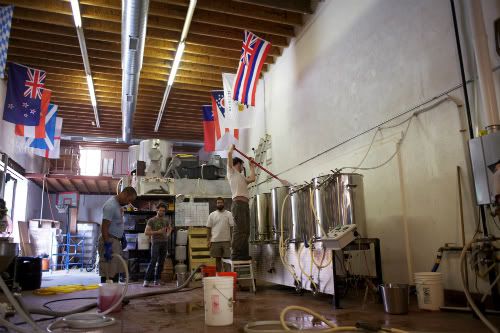 All told, the age-gap of the volunteers and brewers spans about thirty years. It seems there is a brotherhood here, an affinity for good beer, literature, music, and a sense of humor informed as much by the locker room as the Huffington Post. 
Camaraderie at Pipeworks is sustained by many things, I've gathered, but of particular note is their ability to sabotage the inevitable late-morning funk. Nearly every morning around 10:00am someone comes to work with doughnuts. Chocolate, cake, pumpkin doughnuts. Sometimes breakfast sandwiches. This is to say, "I love you guys. Enjoy. Your turn tomorrow."
These days the fermentation tanks are full. The floor is lined by pallets loaded with bottled beer. Shipments of hops, malt, bottles, caps and labels are frequent—Pipeworks is bustling. They remain entirely self-distributed. Industry friends and curious neighbors stop by routinely. No one goes ignored.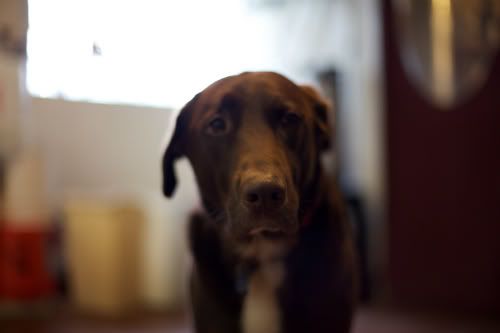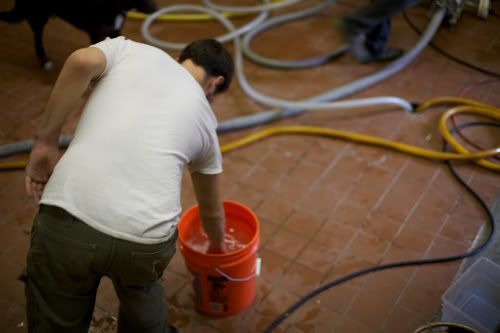 "Do you guys have a tap room?" "Where can I get your beer?" And lastly, "Are you guys hiring?" I look around the brewery and see a team of hard workers, both paid and unpaid. The scarred hands of Scott stirring the wort of a spiced holiday ale. Brad is filling bottles and Mike is capping. Gerrit and Bobby are at their computers in the office, typing, printing invoices. Andrew is washing glasses and tri-clamps in the sink. Beejay tells the person asking that they aren't hiring just yet. 
At the rate this brewery is moving, however, that prospect may not be far off.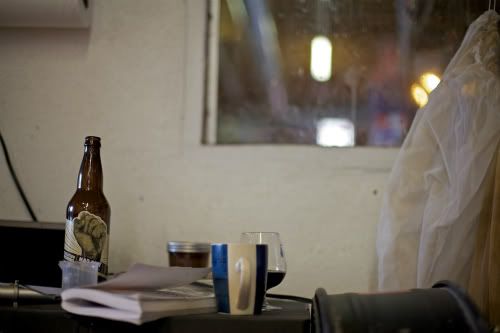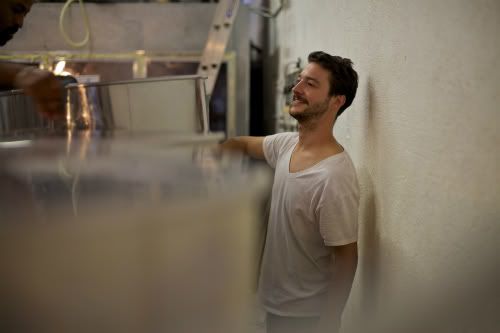 Yesterday was the bottling of a raspberry Berliner Weisse, Well Read Temptress. It was a cloudy, Ella Fitzgerald kind of day. But when the sun came out the Pandora station was changed to Bob Marley. Pipeworks' resident cat Kingston slept on bags of 2-Row malt, while Jonas, the namesake of Jones Dog Milk Stout, begged for a slice of pizza.
From 9:00am to 3:15pm we bottled nearly ninety cases of Temptress on a bottling line with only three spigots. An eight-spigot bottling line is being built, but the three-spigots are working just fine. And this is what I find so appealing about Pipeworks, the sheer practicality of their operation.
They renovated the building themselves. They tiled the floor themselves. The bottle artwork is done by friends or Beejay himself. This is their ambition—Beejay and Gerrit's dream over two years in the making—realized, funded and accomplished by their efforts and the backing of their supporters. 
The city—and for that matter, the country—has taken notice, attracting media coverage from the Chicago Tribune, Chicago Magazine, Draft Magazine, and beer enthusiasts nationwide. Last August I met a couple from New York who knew of Pipeworks, intended to buy whatever beer they could by Pipeworks, and wanted to trade for more Pipeworks upon their return to New York. Why should any of that come as a surprise? The beer speaks for itself. And the guys at Pipeworks have also shown that the feedback of those who try their beer is valuable—brewing missteps have been acknowledged and recipes have been altered as a result. Want to know what I'm excited about? It rhymes with Farleyshrine. 
'03-'04 Pistons. You heard it here first. Here's to my new friends at Pipeworks. I'll see you on Monday, fellas.